February 19, 2019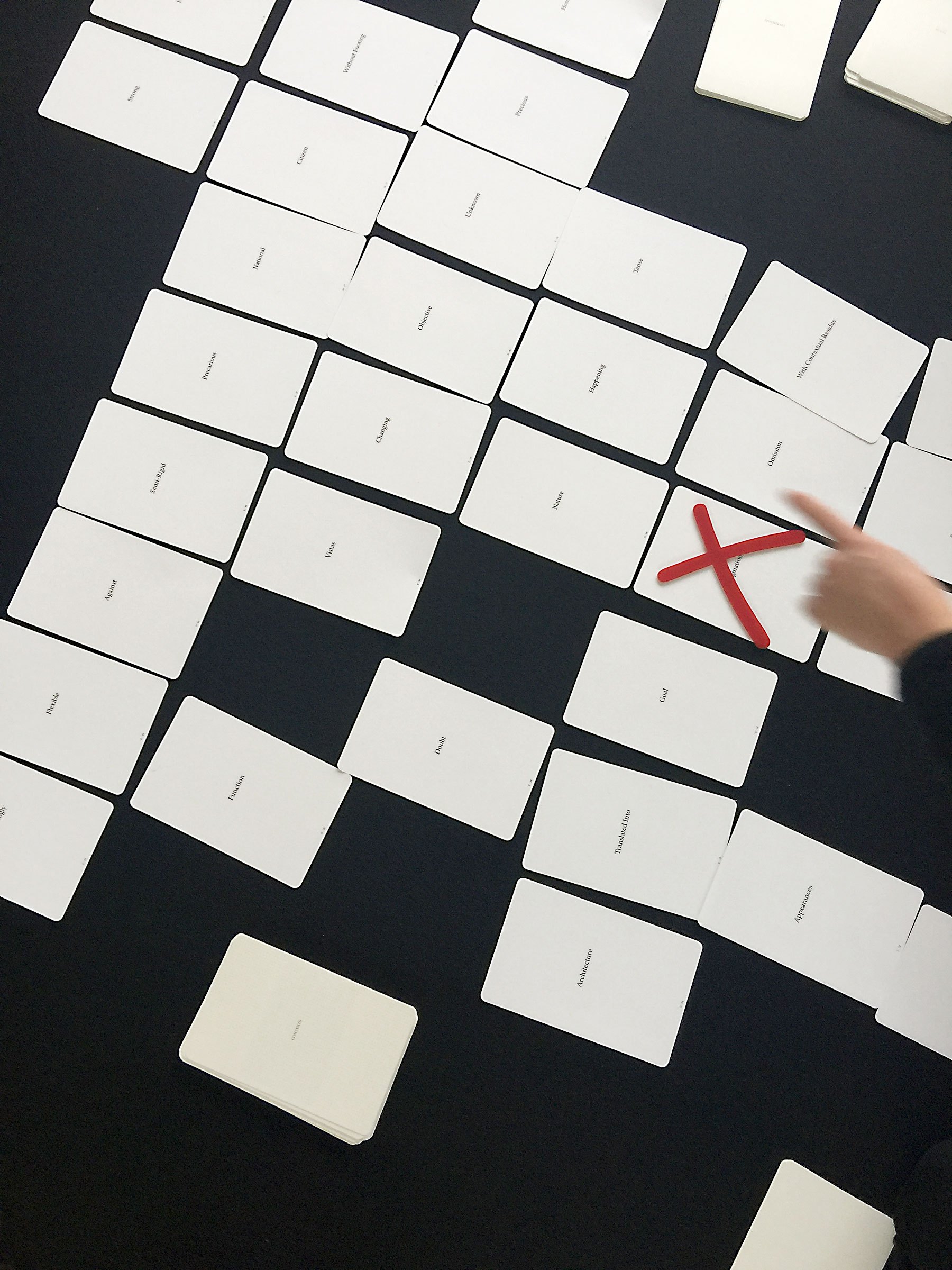 Card players are using the Discourse and Ephemerals decks. 
Exquisite Corpse was inspired by the French Surrealist game Cadavre Exquis (1925), in which players add to a drawing of a body without being able to see what others have contributed. In this project, the game focuses on architecture and has been modified into a card collection consisting of four sets, each of which relates to a different aspect. The first card set, HOUSE, depicts the McCormick House's trajectory from a private residence to a museum space taking a non-linear approach. The second set, CONTEXTS, reflects on the social structures within which the architect, the house, and its residents have been—and continue to be—embedded. The third set, DISCOURSE, is composed of key words taken from the literature that addresses Mies van der Rohe's body of work. The fourth set, EPHEMERALS, pays tribute to all things ambiguous or uncertain. (…) The cards' flexible structure, which supports both, casual browsing and game play, is meant to serve as an idiosyncratic tool to visualize and address the myriad—and sometimes conflicting— materials that continue to shape the conversations around the McCormick House. The cards' layered contents also hope to connect the house's ongoing transformation to a broader discussion around the relationship between, architecture, life and art.
Exquisite Corpse does not claim to be objective in its selection of materials. Rather, the hope is that 'players,' by using the cards either freely or with established rules, can create a wider range of narratives that inspire and suppport their own exploration of this prototypical house by Mies van der Rohe.
Cards can be browsed or played in groups, as pairs or alone. The following pages will give an overview of all cards and propose a couple of game structures. Theses structures are meant as a starting point and can be refined, changed or ignored. Players are encouraged to contribute their own game ideas. Exquisite Corpse is a prototype and therefore a work in progress. Card content might be updated or changed during the course of this exhibition.